Moving the Goalposts (MTG)  Reporting/Referral
The Sample Reporting/Referral Plan displayed below does not incorporate caregivers/parents. MTG believe that the inclusion of caregivers/parents is important and advantageous. When they receive a GVB case, they inform the caregivers/parents before going to the hospital. In fact the caregivers/parents are the ones taking the responsibility to go to the hospital.  MTG ensure that they are available to give support, make sure they reach hospital on time and that all the necessary measures are undertaken on time. For example, reporting the matter on time so as not to lose the evidence. At MTG the victims also share their experiences with the counsellors and peer educators
Get the survivor medical attention. Bring her to a hospital, clinic or local doctor as soon as possible. 60 Get a copy of the doctor's report of the injuries to the body etc.
In cases of sexual abuse, demand that a Post Exposure Prophylaxis (PEP) test be administered at the hospital within 72 hours. This is essential to safeguard the survivor from diseases (including HIV/AIDS) and can provide critical information for a medical report that can be used to prosecute the perpetrator. Be sure to get for a copy of the PEP test results.

Take the survivor to the police station and file a report with as much detail as possible. Ask for a copy of the report. Sharing this report with other direct service providers, instead of having the survivor repeat her story, can reduce the chances of re-traumatizing the survivor

Make sure the survivor has a safe place to stay. If she has been abused at home, do not send her back to her house. If you are unable to provide this, get creative. Without breaching the girls' confidentiality by discussing the details of her case, ask a trusted person within the sport programme if she can stay with them. Contact a women's shelter or social service organisation that hopefully your organisation has set up a relationship with prior to the incident. 
Sample Reporting/Referral Plan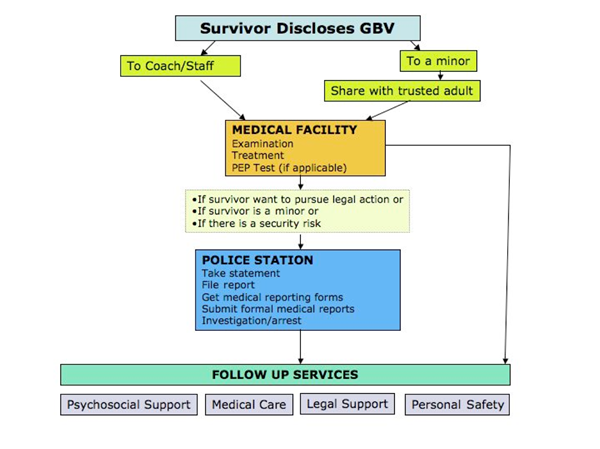 Footnotes:
60 . Procedures surrounding the rapid response to treating victims of GBV are complex. Programme partners have experienced unwillingness on the part of the victim to report and/or receive medical attention. This may be due to a myriad of factors – the victim knows her abuser, shame attached to rape etc. Women Win understands that every situation is unique and that the actions one may undertake when attempting to help a victim may be determined by the victims own wishes. However, here we aim to be consistent and align with international procedures. See Standard Operating Procedure, UN in Liberia Sexual Assault and Rape Rapid Response Team, May 2006, Standard Operating Procedures for Prevention of and Response to Sexual and Gender Based Violence, UNHCR, November 2007 and Guidelines for GBV Interventions in Humanitarian Settings: Focusing on Prevention of and Response to Sexual Violence in Emergencies, IASC Sub-Working Group on Gender & Humanitarian Action, May 2008.